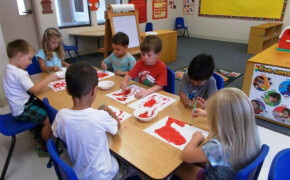 Do you know the right questions to ask when looking for a new preschool for your child? Using questions from Angie's List, we answer all of the things you want to know about Community Lutheran Preschool!
See how Community Lutheran Preschool answers the following questions from "15 Questions to Ask When Finding a Preschool or Daycare" on Angie's List.
Center:
Are your caregivers trained in first aid/CPR? Yes. Our preschool licensing requires that one person on campus be trained, but we require our entire staff to have current first aid/CPR certification.
Do you conduct background checks on all of your employees? Yes.
What type of child development training do you require? All staff members exceed licensing requirements. All of our teachers exceed the required number of college units and go through ongoing development training and workshops.
What is the student to teacher ratio? Although preschool licensing allows 12:1, we prefer 8-10 children to one teacher and one aide. Most preschools go through a 30-40% turnover rate with their staff each year, but our preschool teachers have all been with us for at least 10 years! This consistency in our staffing creates a more secure environment for children.
Is your facility licensed and/or accredited? Yes. Our preschool licensing number is 372006473.
Classroom:
How many children does your facility serve? We are licensed for up to 60 children.
What is the specific breakdown of age ranges? Ages 2 - 5.
What is your educational philosophy? We believe in developmentally-appropriate, success oriented Christian education.
What is your discipline policy? We choose the re-direction method.
What is a typical day like for the children? Children experience a balance of small and large motor skills, indoor and outdoor activities, academic readiness, music and movement, opportunities to experiment and explore, social and emotional growth.
Health:
What is your sick child policy? Child must be symptom-free for at least 24 hours before returning to school.
What types of snacks and/or meals do you serve? We provide morning and afternoon snacks. Parents send own child's lunch, and we provide milk.
What opportunities are available for indoor/outdoor play? Our preschool has 3 large playgrounds. Our classrooms feature many options for creative play.
What is your policy about administering medicine? Yes, with written parent-permission.
What is your policy about potty-training? We help with potty-training!