Worship at Redwood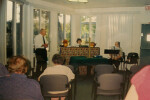 Wondering what it would be like to help lead a worship service at Redwood Terrace gave me a challenge. How would I be able to effectively communicate the love of Christ to people who are probably, for the most part, older than I am, with a lot more experience in life? What a joy it is to see these seniors from all walks of life participate and be open to singing and praising God! Their loving response also helps build my faith in Christ!
Community Lutheran Church's ministry includes conducting a worship service for the folks at Redwood Terrace on the first Sunday afternoon of each month at 3 PM. Those in attendance include those who are ambulatory, those who walk with canes or walkers, and those who are in their own wheel chairs, and those who are brought to worship by some of the Redwood Terrace attendants. The approximate 30 minute worship time includes several songs, a scripture reading, a confession of sins, a confession of faith with one of the Creeds, and I lead a devotional message. Joyce Roberts leads the singing by playing the piano, and Joy Risher plays her flute.
Those in attendance express their thanks for this special time of worship. God bless the folks of Redwood Terrace!