What Made Oklahoma A Great Show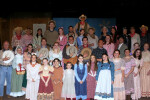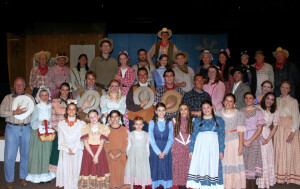 Community Players Theatre experienced another amazing show with Oklahoma! It is difficult to describe the process from beginning to end, but the adventure is similar to that of throwing a 1000 piece puzzle into a box, and shaking it, and opening the box to find it all put together; well kind of. We start with so many different moving parts and so many different angles to make out plays great. Someone is building, while someone is dancing and another is singing, but someone else is painting, while others are learning blocking and stage movement and someone else is putting costumes together or hanging a curtain. And then something miraculous happens: we begin to put ever piece together, and like that 1000 piece puzzle, each single piece fits into its exact location making the entire puzzle look right. As the director, it is my job to make sure those pieces fit together, but it is truly the talents of the dancers, singers, painters that makes the puzzle looks and feel as amazing at this show turned out.
But something else happens that not everyone knows. Unlike the cold puzzle all pushed together, a cast of a play grows with the pieces next to it. The longer the pieces are together, the better they fit, and the more they grow together to make the picture complete. You cannot understand how close we grow as friends and as family during the play, how the cast members become important in each other's lives as we spend hour after hour making out play a beautiful picture. And when the show dates finally arrive, the joy we all feel is expressed on stage. And in the same, the day after a show finishes feels a bit lonely, but fulfilling to know what we had done together.
As a theater group, we are so blessed with so many gifts. I have been doing community theater for a long time, and the voices we have are incredible. At times, I would sit back, stop directing and watch a rehearsal just to listen to the voices and songs that God has provided for theater group. To watch the joy on the faces of the cast as they got to sing their sections or solos is something to see. And the songs penetrated our minds. Like many of the cast members, I would wake from a dream, remembering what happened and also remember hearing the song "Oh What a Beautiful Morning" in the background. The acting made us believe in the show, but the songs bonded us together like glue. Those songs echoed in our hearts, and what a privilege it was to be able share those with an audience.
It was along and amazing journey. I can say some of my highlights were seeing Sabine work on the details of each song, watching Chelsea teach the graceful moves of each song, the beautiful program Lisa created, watching Marsha notice and fix every small detail of the show, seeing Katie, Paul and Ben work the lights and sounds into each segment of our show, noticing the details put into each costume by Alyssa and Katie, and most notably, the joy each person had as they walked out on stage and performed their part in the play. So often, people thank me for the effort I put into a show, but the truth is, with the wonderful people I work with, I think I get way more out of than they will ever know. The time we spent together is moments I will never forget. I enjoyed being one of those colorful pieces in the puzzle that made the beautiful scene known as Oklahoma!
Thank you all for supporting my ministry here at Community.
Note: Oklahoma was our largest audience in Community Players Theatre history, selling out 4 of 6 shows with a total of 836 seats filled! Visit our drama photo gallery for pictures of Oklahoma and other past productions.