Hoedown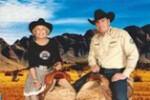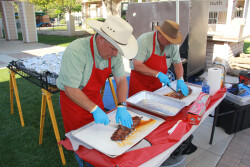 HUGE SUCCESS!! The "Hoedown" was put on by the high school youth at Community last Saturday evening in the Ministries Building, and "a good time was had by all." This well-attended event will be remembered for a variety of reasons. The barbecued ribs and chicken were "out-of-this-world!" (as were the potato salad, baked beans and desserts!) The line dancing lessons were fun and great exercise! All ages participated.
What a fun way to raise funds for this summer's Youth Gathering in Texas! There was even a hoe-down picture taking area with barrels of hay and horse saddles. I am sure some are going to be showing up on Christmas cards and on Facebook!
All the volunteers need to be commended for their time and hard work in the many details which made this even so successful. The decor even included table decorations of horseshoes and bandanas. Jim Meyer and the youth parents deserve a big "Thank You" for their donated time and food preparation.
Sounds like this should be an annual event to me!
In Christ's love… Sandy Rix
Note from Jim Meyer – We estimated that 170 people came to the Hoe-Down and the group made just over $1,800.00 to assist the youth and young adults who are attending the Gathering.