Giving God the Glory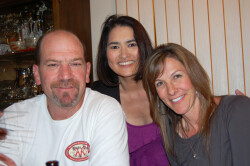 Let me start by saying...God is so GOOD! My name is Debbie Lundberg and I'm the secretary at Community Lutheran Church. I have been truly blessed with a precious friend, turned sister-in-law, Laura, whom I absolutely cherish and love with all my heart. We were friends and roommates even before we were married to the Lundberg brothers. We've known each other for 27 years and counting. Laura is a very special person to me and so many others. She is our family's treasure, made even more precious when we thought we might lose her. Here is her amazing story, woven together in a way that only God could orchestrate.
Dear Community Lutheran Church,
As she has so graciously explained, I am Laura Lundberg, Debbie's sister-in-law. We have been great friends for many years, and I cannot imagine life without my sweet Deb. When she approached me about writing for the CLC blog, I was glad to have a chance to share my miracle story. Thank you so much for giving me this opportunity to share the miracle that God has bestowed on me! The Lord blessed me with a miracle through a major medical ordeal. He orchestrated the entire thing down to the small details and I hope after I share it with you, that you will be awed by His grace and mercy, and that most importantly my words can glorify Him.
We live in a small mountain community called Tehachapi, located about four hours away from San Diego. On the Monday of spring break 2012, I drove down to Carlsbad with my son, Trent, daughter Alyssa, the dog and cat to spend the week with my mother. My husband, Thane would join us on Wed after work.
On Tuesday, we had a fun day shopping, playing and dining around the "big city." At around 10 pm, as my mom was going up to bed, she reminded me that my car was still not in the garage. I told her that I was going to go get gas in a bit, so not to worry. Normally, my mother would have said, "Don't go out at 10:00 at night, just go in the morning." And since we didn't have anywhere urgent to go the next morning, I probably would have waited, but for some reason I felt compelled to go. Trent was playing a game on my phone and Alyssa was curled up with a book, and since I was just going around the corner, I told them I would be right back. I put the dog in the car and headed down to the gas station.
Once there, I consciously drove my car in the center pump thinking that if anything happened, the attendant would see me. I started the gas pump then walked around the car to wash the passenger side of the windshield. Suddenly, I felt a "big whoosh" inside my head. There was no pain, but I remember trying to grasp the side mirror before I hit the cement.
I woke up with a bad headache and staring up at the lights of the gas station. Two attendants were looking down at me very concerned. They told me to lay still and that they would be here soon. I wondered what they meant since I thought I just fainted. In about 3 minutes, an ambulance and rig pulled up and 6-8 of the cutest Carlsbad firefighters were huddled around me. Oh, the Lord is good!
They got me propped up against my car, and I was able to answer all their questions. They were very kind and respectful. I was fully aware of what was going on, and able to control my physical movements. I told to them that I had simply fainted and had a bad headache from hitting the cement. They disagreed, and explained that since I passed out, they wanted to take me to the hospital to get checked out as it indicated something more was going on. I agreed as I realized that I was in no condition to drive, my legs and arms felt like jelly and my head was pounding. I asked to borrow a phone so I could call my mom to come get the dog. The kind firefighters stayed with the dog until my mom arrived, as I walked assisted by the very cute medics into the ambulance.
At the hospital, they discovered after two cat scans, that I had 2 aneurysms with one ruptured, which had caused a hemorrhagic stroke. An aneurysm is a condition in which a blood vessel becomes weakened in a spot and that creates a bulge in that area of the vessel. If the blood pressure increases, the bulge increases in size and can burst or leak. The hemorrhagic stroke is caused by the rupture or leaking of the vessel leading to loss of blood flow and therefore loss of oxygen to the area.
At around 1:30 in the morning, they decided to admit me, and my sister-in-law, Lynnell, who had met me at the hospital, asked the doc if we should call my husband who was sound asleep but 4 hours away or just wait till morning. The doctor, in a very grim voice, instructed us to gather the family immediately. This was going to require admission into the ICU and surgery as soon as possible. I thought I was going to have another stroke! Up until then, I truly thought I had just fainted. So we made the call to poor Thane, and since he had planned on coming down the next day, he was already packed. That was God working it! So Thane was able to get to the hospital by 6:00 in the morning. At 6:15, the only doctor in San Diego County who routinely does the procedure I required at that hospital was at my bedside. He explained the procedure and risks, and that 1 in 12 have some sort of damage as a result and that if there was a rupture during the procedure, there probably would not be time to take any sort of drastic measures. Thane's eyes were as big as golf balls, but for some reason, I felt a calm come over me.
They performed an endovascular coiling on both aneurysms. Through a catheter inserted through the femoral artery, they fed platinum coils or curly wire into the aneurysms. They filled both with about 60 coils in all. The blood flow around the coils causes clotting and the aneurysms basically seal themselves off. The procedure took about 4 ½ hours. It was amazing! No shaved head, no huge scar, no major recovery time and not much worry about infection. I spent two weeks in ICU and another five days on the telemetry floor.
Throughout the hospital stay, someone was constantly with me. My wonderful husband called Don and Deb and together they worked out a schedule so that someone was always with me. I was so thankful for that, as the pain and anti-seizure medications had to be timed accurately to prevent excruciating headaches. Even wonderful Pastor Vogelsang paid me a visit and prayed over me while I was in the ICU. Chuck and Phyllis Rauschek also came and prayed with me and encouraged me in a way that only pastors can. It meant so much to have so many praying for me, your thoughts and prayers truly helped me to get through this ordeal! Community Lutheran sent a prayer quilt my way to let me know I was loved and being prayed for. That quilt is still on the chair that I spent most of my recovery in, and I will treasure it forever!
The Lord was with me every step of the way. He timed it so I was not driving my kids, the dog and cat through the desert when it happened. We were in San Diego with lots of family support—if we were in LA, we wouldn't have the support to get through it. When it happened I was alone in a public place close to good health care facilities. If this had happened in Tehachapi, I wonder what the outcome would have been. We checked, and found that there is no one in Bakersfield or Lancaster who performs this procedure! If my mom had insisted that I wait to get gas and just go to bed, what would my family have gotten up to in the morning?
My sister-in-law, Cheryl, was able come down from the Sacramento area to stay with the kids in Tehachapi, to keep their routine as normal as possible. Although still stressful for the kids, it was such a blessing that they could be at home with someone they were very comfortable with. His plan even included minor details such as getting our 2nd car back to Tehachapi. A friend and her family were in San Diego for the Easter holiday. She was such blessing, she visited me in the ICU and held my hand and told me that many were praying for me back in Tehachapi. She mentioned they would be heading back on Monday and if we needed someone to drive the car back she would be happy to help. We were so appreciative of her offer, as Thane was in no condition to drive.
While in the hospital, I asked Don Lundberg if he had ever had a miracle in his life. He said that he was looking at one. I told him that I was not the miracle, but that God had performed the miracle and I just happened to be blessed enough to be the one He chose. Glory to be to our Lord God and Savior!
The Lord continued to protect me! In August 2012, they found that one of the aneurysms was still filling with blood and continuing to enlarge. They went back in and placed more coils and a metal stent to prevent further growth. In February of 2013, I went back in and had another angiogram to check on the hardware, and everything was in place and holding steady. The doctor released me for a whole year without another checkup!
So please, if ever you have a chance to pray for me, please give Him praises for giving me this miracle and carrying me through it totally unscathed. I have no neurological deficits whatsoever, and the Lord truly deserves all the glory!
In Christ,
Laura Lundberg