Drama Camp - The Triple Threat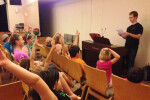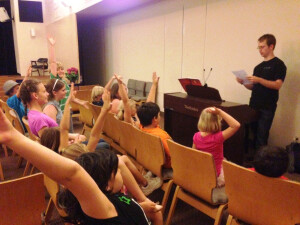 Community Players Theatre recently hosted its 6th Annual Drama Camp in the theater at church. The group of students ranged from 5-17 and all had an amazing time. In theater we support three different areas of performances (Acting, Singing and Dancing – also known as the triple threat). So, for our drama camp, we did all three.
We started off with a day of pantomiming (the art of acting without words or sounds). The kids did an amazing job trying to act our chores and animals and jobs, as the rest of the cast tried to guess.
Our second day centered around choreography, the art of dance in theater. We invited Chelsea Nygaard, choreographer for Community Players Theatre, to come in and spend time with our students. For nearly 2 ½ hours, the students worked hard to learn to dance to a Broadway song number, and each step challenged all different levels (beginners to advanced). In the end, the dance was complete, and the students performed one time for their parents and friends.
Day three centered around singing, and we invited in Steven Wade, a very talented actor/singer from many of our plays. He taught the students some singing skills and that lead to learning a great song from Aladdin. Students learned about parts and harmony, and also learned a number of breathing exercised. We also spend a little time on singing the song we had danced to the day before.
Day four was centered around auditions and how professional actors and actresses do a good audition for a director. We talked about concepts and strategies including a slate, facial expressions and hand gestures. And then, the students got up on stage and did a real life professional audition, as the rest of the class watch. What confidence this build into each member of the cast, and it was incredible to watch.
Our final day of drama camp centered around combat training, teaching the students how to choreograph fight scenes and sword scenes (no we didn't allow any real swords, and all the fight scenes were not contact). We learned the art of how to set up a scene, how to block it and to do it safely, yet in a way that made it look real. All ages loved the activities and the scenes we created including a giant pirate scene.
It was an amazing week, and I can't wait to do it again next year.