Community Lutheran Choir sings at the Ballpark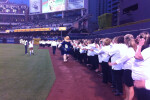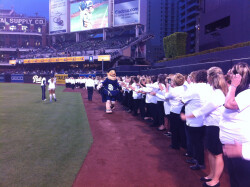 On Friday, September 20, thirty-five members of the Community Lutheran Church Choir joined 300 other Missouri Lutheran Choir members from all over San Diego County to sing the National Anthem at the Padres baseball game in Petco park. There were 37 churches represented. Roger Howard, a choir director from La Mesa, had organized the event. Our choir had been working all fall during our regular Wednesday evening rehearsals to learn to sing the anthem accapella in four part harmony.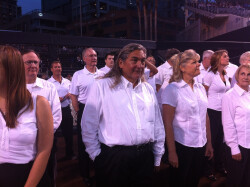 The group began arriving after 5:00 to gather and get organized to rehearse. Four lines of 75 people each formed outside the ballpark and we practiced, for the one and only time, with all of these eager singers. Because the group was so large, Roger had asked Christine to help in conducting. As the numbers grew, she enlisted my aid, so there were three of us who were involved in leading the singing. The rehearsal went well and even outside and singing together for the first time, we were pleased with this great sound. Our lines entered the stadium and lined up on the track. The Padre mascot came along and gave the first row high-fives as we were waiting. I was speaking to the first row and did not realize he was there and I backed up and almost had a collision with him. (That would have been embarrassing!)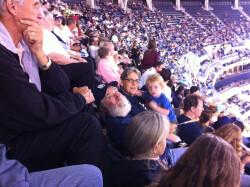 WE marched on to Centerfield and sang THE STAR SPANGLED BANNER. It was such a thrilling time for everyone and the audience seemed to be extremely pleased. They were applauding us as we left and leaning down to shake hands and give high fives to those close to the stands. As we entered the stadium to find our seats for the game, many people told us how impressed they were. A number of Community Lutheran Church members had come to the game and as we joined them they told us how well it sounded to them in the stands. We were pleased to share our love of music and our love of our country with so many people. It was a night to remember.
Video from the game provided by the San Diego Padres