Bed Nets, Malaria Treatment, and Medical Equipment: The Results of our LMI Garage Sale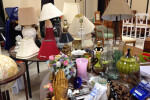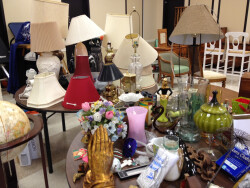 I feel so blessed to have been involved with the garage sale. I had so many worries! I would do a poor job presenting the Lutheran Malaria Initiative and nobody would care about it, we wouldn't get enough stuff to sell, we wouldn't have enough volunteers, we would have too much stuff, we wouldn't get any customers, we wouldn't be able to get rid of all the leftovers…..Finally I just had to give it over to God. That, of course, was the right thing to do and He answered all my prayers and it turned out great. My goal was to raise $2,000 and we raised over $7,000!
With how efficiently the Lutheran Malaria Initiative utilizes donations, CLC has done a lot of good.
$1 will provide treatment for one sick child
$10 will provide one family with a treated bed net
$50 will cover the cost of a radio malaria prevention message
$100 will help train a healthcare worker
$1000 will provide microscopes and other medical equipment to a rural clinic
Our congregation is so great. Everyone who came out to work was enthusiastic, fun, and worked hard. There was a lot of work, but it was fun work. Everyone was tired but it was a good tired. I can't mention everyone who helped because there were so many but I need to single out a few. Graham Grainger made many, many trips in his truck to pick up big heavy items. Bob & Jackie Stanley, Kristen Beyer, Jackie Huhn, and Juan Hernandez worked for hours and hours. The 50+ lunch group was very welcoming and generous with donations for LMI and many stayed to help organize and set up. The donations of money and garage sale items were generous beyond my wildest hopes.
We had hundreds of customers, most of them not from our congregation. We were able to help some who were in need and one lady who was shopping for furniture and house-wares for military families. We told everyone who came about the malaria initiative and gave them an informational pamphlet. We even sold some tickets to Oklahoma. Some of our customers told me we had very nice people at our church and said they might come back to worship with us.
We did have left over sale items but they went to good causes: to help a church in Valley Center with their youth group fundraiser, a Valley Center garage sale to raise money for their 8th grade trip, and some books went to an Indian reservation for a senior citizen book sale. Amazingly we were able to clear out the ministries building and put away all the tables in one hour. The power of the Spirit augmented by doughnuts is an awesome thing!